Field Directions

Soccer Tryouts. Interested players are welcome to request a tryout at any time. Players can e-mail Coach Joe at jwendlberger@cox.net or call him at (703) 495-8812. Each June the team will hold an official open tryout in which each current player must compete for their position for the following year (see evaluation procedures below). Our primary practice field is South Run Park, located just off the Fairfax County parkway. June Tryouts for Fall 2006 U18 season will be held at South Run, Field 6, on June 7, and June 9, 5:30 p.m. to 7 p.m. Because of high interest and various conflicts, a third session will be held Monday, June 19, 6:00 to 7:30 at Greensprings Village field. Maps are shown below. If you cannot make any of these three dates you may request to guest-play. The coach created a summer team composed primarily of Galaxy players for two U.S. Club Soccer events, Regionals at Fort Dix, N.J., June 24-27 and Score at the Shore in Greensboro, N.C.; call to make arrangements. Please check the hotline for any changes to any of the planned events.

Inclement Weather: Any changes due to weather will be posted on the SYC Galaxy hotline at (703) 912-1621.

.

Procedure:Because the coach is also a parent, he opted to have tryouts conducted by a number of independent evaluators. The past two years, tryouts were conducted by trainer Tung Nugyen, with evaluations by former pro and All-American Mark Brotherton, Irish Premier and VCU star Colin Vint, high school coach Bobby Garza, and John Carr (Harvard).

.

South Run Park 7550 Reservation Dr, Springfield, VA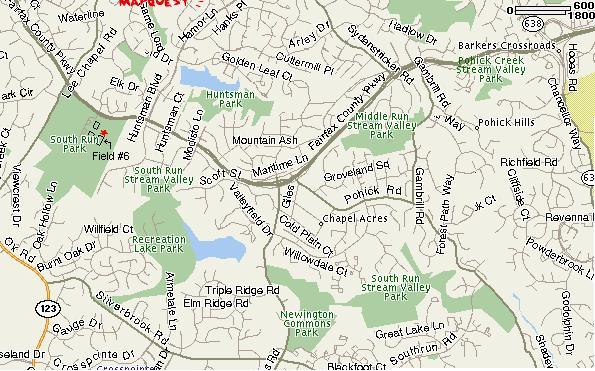 Directions: From eastbound I-495, take I-95 South to the next (Springfield) exit. Take Keene Mill Road (644) west for 5 miles and turn left on Huntsman Blvd (half a mile past Rolling Road). Proceed 2 miles (through a stop sign to a traffic signal) and turn right on Fairfax County Parkway (7001). Park entrance is 500 yards on the left. From westbound I-495, do not take the I-95 south exit, rather follow the signs for 644 west. An alternative is exit early on Van Dorn, heading south (Franconia). Turn right on Franconia Road (fourth signal), left on Beulah (first signal), then right on the Fairfax County Parkway (third signal). From I-66, take I-66 to the Fairfax Country Parkway (Route 7100) towards Springfield. Continue past signal at Lee Chapel Road to a traffic light at Reservation Road. Turn right into the park. Pass the first soccer field as you enter South Run (the field is usually permitted to BAC). The team typically practices on the second field (Field 5). Field 6 is behind field 5 and is also permitted to SYC.

Occoquan Soccer Fields:

Beltway to 66 West. Exit on 123 South. Go through Fairfax City and Lorton. Park is on the left just past the prison and before the Occoquan River Bridge and the Lakeridge area. Follow parking directions. Alternate: 95 South from the Capitol Beltway and exit at 123 North. Just over the Occoquan Bridge the park entrance will be to the right. Please follow parking directions.

Greensprings Village (Bob Elseth) Field:

A Beautiful field just off the Fairfax County Parkway, Va-7900/7100. From Fairfax. South on Fairfax County Pkwy,VA-7100 S. Go 1 mile past Rolling Rd. Left onto Spring Village Dr. Parking lot 0.1 mile on Left. Because there is no 7100/7900 exit off of I-95, drivers must exit before the parkway and use the backlick on-ramps to the parkway. From North/East (Md, Arlington, and D.C.). South on I-95/I-495/I-395 toward Springfield Interchange (stay local, DO NOT take I-95 South flyover). Springfield exit - Merge onto Old Keene Mill Rd/VA-644 W toward Springfield. Right onto Backlick Rd. Left onto Bland St. Left onto Amherst Ave/VA-617 S (to cross over Old Keene Mill Rd). Continue 0.7 mile. Right to merge onto VA-7900 W/Franconia-Springfield Pkwy. Go 0.5 mile. Right onto Spring Village Dr. From areas South. I-95 N toward Washington. Take the Backlick Rd exit (166B) toward Fullerton Rd. Merge onto Fairfax County Pkwy/John F (Jack) Herrity Pkwy/VA-7100 crossing over I-95. Merge onto Backlick Rd/VA-617 N. Go 2 miles to turn Left onto VA-7900 West /Franconia-Springfield Pkwy. Go 0.5 mile. Right onto Spring Village Dr.

Lee High School: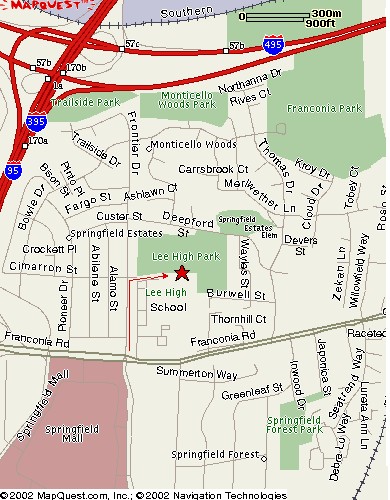 SYC Galaxy Practice Soccer Fields. In the fall, the team usually practices at South Run. In the Spring 2004 the team practiced on Saturdays. Because of game conflicts at South Run, the team practiced at South Run Oaks, adjacent to highway 123. After the high school soccer season, weekday practices were held at Lee High School--north of the Springfield Mall. From Old Keene Mill/Franconia turn North on Frontier. The next right is Cimarron. Turn right on Cimarron into the school. If you are traveling from I-495/I-95 and exit at Franconia Rd (644) East, stay in the right lane. Note: As you head east on 644 (Franconia/Old Keene Mill), you do not want to take the by-way because it passes over Frontier. See Map below.

If you are interested in a tryout, you can use the e-mail above or call Coach Joe at (703) 495-8812. &nbsp

Inclement Weather: Changes due to weather will be posted on the SYC Galaxy hotline at (703) 912-1621.

.